FC Kizilkum share the poinrts with FC Metallurg in Navoi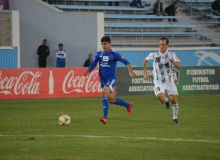 FC Kizilkum contested with FC Metallurg in their Uzbekistan Super League match at the Yoshlik Stadium on Tuesday.
The visitors started the second period quickly, taking the lead as early as the second minute through Stanislav Andreev, who broke the deadlock after a 47-minute goalless period.
However, Lasha Totatdze put the sides in lever-term just four minutes later, but the score remained a 1-1 draw in the full-time whistle, despite the hosts had the better of the action during the remainder of the contest.
Qizilqum

Superleague Matchday 23

29/10/2019 17:00

Finished

Metallurg

Stadium: "Yoshlik" stadium, 1320 spectators

Referee: Valentin Kovalenko