FC Kokand-1912 confirm nine new signings including three Serbian players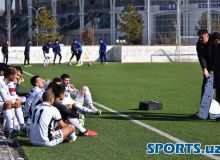 FC Kokand-1912 have announced nine new signings ahead of the 2019 Uzbekistan Super League on Monday.
Three Serbian players Bojan Knejevic, Milosh Nikolic and Marko Miloc will continue their career in Uzbek League as Shakhboz Erkinov completed a move to Kokand side from FC Bukhara.
Jasur Khasanov and Javohir Esonkulov left FC Metallurg due to the end of the contract and signed a contract with Numon Khasanov's side.
FC Kokand-1912's new signings
Bojan Knejevic
Milosh Nikolic
Marko Miloc
Shakhboz Erkinov
Jasur Khasanov
Javohir Esonkulov
Jamshid Khasanov
Timur Khakimov
Timur Usmonov