FC Lokomotiv claim a 3-1 win over FC Bukhara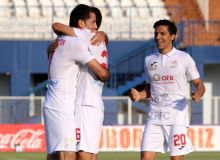 FC Lokomotiv earned third victory in a row
FC Lokomotiv bounced back as they claimed the third consequent victory in the Uzbekistan Super League.
The Railwaymen traveled to Muborak to contest with FC Bukhara in their Uzbek League match at the Bakhrom Vafoev Stadium on Sunday.
In the 15th minute, Temurkhuja Abdukholikov opened the scoring before Marat Bikmaev made it 2-0 just 4 minutes later.
Tashkent side went to the break with a 3-0 lead following the 27-minute strike from Azizbek Amonov. After the restart, Bekhruz Sadullaev managed to decrease the deficit, but it wasn't enough for Bukhara side to claim a single point.
Bukhara

Superleague Matchday 16

20/09/2020 17:00

Finished

Lokomotiv

Temurxo'ja Abduxoliqov

15'

Marat Bikmaev

19'

Azizbek Amonov

27'

Stadium: Bakhrom Vafoev stadium

Referee: Akobirkhuja Shukrullaev
Found mistake? Select it and send us (Ctrl + Enter)