FC Metallurg gain a deserved 2-1 victory over FC AGMK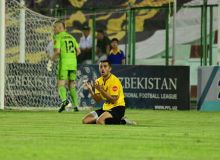 Goals from Shavkat Mullajonov and Bahodir Pardaev claimed FC Metallurg a deserved 2-1 win over FC AGMK in Saturday's Super League at the Metallurg Stadium.
The hosts went in front thanks to a 32-minute goal from Shavkat Mullajonov, while Zafar Polvonov equalised the scoring in the 64th minute of the game.
FC AGMK returned the advantage just 10 minutes later as Bahodir Pardaev converted a goal from a penalty spot.
Metallurg

Shavkat Mullajonov

32'

Bahodir Pardaev

78'

Superleague Matchday 14

27/07/2019 20:00

Finished

AGMK

Stadium: "Metallurg" stadium, 4521 spectators

Referee: Shavkat Nasibullayev