FC Oktepa down FC Dinamo in Samarkand to advance to the next stage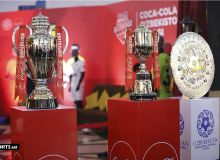 FC Oktepa struggled with FC Dinamo for a single ticket for the next round in Samarkand on Sunday evening.
Ibrakhim Tomiva's double saw Tashkent side went to the dressing room with a 2-0 lead in the break at the Dinamo Stadium.
After the restart, Ibrahim Tomiva added the third to made his first hat-trick for FC Oktepa. In a span of 3 minutes, the sides exchanged two goals through Amirjon Safarov and Samandar Ochilov.
Hakim Alamkhonov and Shohruh Abdurahmonov decreased the deficit for FC Dinamo in the remaining 10 minutes of the game but FC Oktepa managed to keep a 4-3 advantage in the full time.
Dinamo

Uzbekistan Cup Second stage

31/07/2020 18:00

Finished

Oqtepa

Stadium: Dinamo stadium

Referee: Ilya Ilin
Found mistake? Select it and send us (Ctrl + Enter)