Greco-Roman wrestling: The champions of Uzbekistan in all weight categories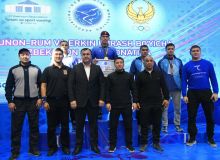 The national championship continues.
The Uzbek Elite Wrestling Championship continues at the Universal Sports Complex in Tashkent.
So far, all the winners and prize-winners have been determined by the end of the Greco-Roman wrestling competition. It was the turn of the freestyle wrestlers and they started their march towards the national championship.
Below you can get acquainted with all the winners and prize-winners of this year's Greco-Roman wrestling championship of Uzbekistan.
55 kg weight category
1. Jasur Ortikbaev (Tashkent city)
2. Laziz Toshkenboev (Samarkand)
3. Zayniddin Nashirov (Tashkent region)
3. Ikhtiyor Botirov (Tashkent region)
60 kg weight category
1. Feruz Tukhtaev (Bukhara)
2. Abdulaziz Tursunboev (Namangan)
3. Ilhom Bahromov (Samarkand)
3. Muhammadqodir Yusupov (Andijan)
63 kg weight category
1. Islam Bahromov (Samarkand)
2. Turabek Tirkashev (Samarkand)
3. Nikolai Egorov (Tashkent city)
3. Kamol Kuziev (Bukhara)
67 kg weight category
1. Abror Atabaev (Fergana)
2. Mahmud Bakhshilloev (Bukhara)
3. Ilyas Abdunazarov (Tashkent region)
3. Sobir Kazakbaev (Jizzakh)
72 kg weight category
1. Mirzobek Rahmatov (Bukhara)
2. Jahongir Hamroev (Tashkent region)
3. Alijon Huseynov (Navoi)
3. Jamol Jumaboev (Bukhara)
77 kg weight category
1. Aram Vardanyan (Tashkent city)
2. Fazliddin Namozov (Samarkand)
3. Tolqin Tuyev (Bukhara)
3. Dilshod Omongeldiev (Tashkent region)
82 kg weight category
1. Muhammadkadir Rasulov (Fergana)
2. Bekzod Umarov (Navoi)
3. Dilshod Mamadaminov (Tashkent city)
3. Jamshid Kuziev (Tashkent region)
87 kg weight category
1. Jalgasbay Berdimuratov (Karakalpakstan)
2. Nurbek Xoshimbekov (Andijan)
3. Azamat Abdubanopov (Fergana)
3. Shahriyor Juraboev (Samarkand)
97 kg weight category
1. Muhammadali Shamsiddinov (Bukhara)
2. Abror Nurmuhammedov (Tashkent)
3. Ergali Aykhimbaev (Tashkent region)
3. Botir Kandilov (Kashkadarya)
130 kg weight category
1. Mominjon Abdullaev (Samarkand)
2. Suhrob Fattoev (Navoi)
3. Abror Mamasoliev (Andijan)
3. Daler Rakhmatov (Fergana)
Матнда хатолик топсангиз, ўша хатони белгилаб, бизга жўнатинг (Ctrl + Enter)