HC Humo beat ORG Shenzhen with a 3-1 win in China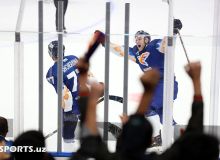 HC Humo kicked off their Oriental match series in Supreme Hockey League with a 3-1 win over ORG Shenzhen in China.
Uzbek side went to the first break with a 1-0 lead after Artyom Voroshilo broke the 15-minute deadlock at the Beijing A.Z Ice Sports Club.
In the 38th minute, Pavel Zdunov doubled the lead for Yevgeniy Popikhin's side in front of the home crowd.
In the third period, ORG Shenzhen halved the deficit through Robert Shi, but Aleksandr Sherbina returned a two-goal lead for HC Humo in the last seconds.
{game}3144269 {/game}