HC Humo receive a 2-0 defeat from Zvezda Chekhov in Voskresensk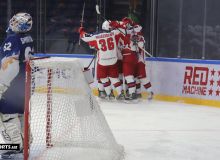 HC Humo played their quarterfinal match in a neutral arena the following ban to halt hosting international events in Uzbekistan.
Yevgeniy Popikhin's side competed with Zvezda Chekhov in the third tie in their Supreme Hockey League quarterfinal series at the Podmoskove Ice Palace in Voskresensk.
After a 3-2 win over Moscow side on Thursday, HC Humo received a defeat as Artyem Chmikhov and Maksim Sorkin secured a 2-0 win for Zvezda Chekhov.
Humo

VHL Playoff Round of 1/4

15/03/2020, 19:00

Finished

Zvezda
Found mistake? Select it and send us (Ctrl + Enter)