HC Humo receive a stunning 5-2 defat from HC Dinamo Saint Petersburg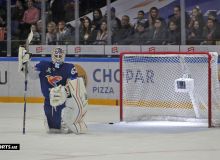 HC Humo kicked off their February series with a stunning defeat
Evgeniy Popikhin's lads welcomed HC Dinamo Saint Petersburg to Humo Arena for their Supreme Hockey League fixture on Saturday.
Aleksandr Komaristiy and Daniil Jarkov gave a two-lead for Saint Petersburg in a span of 4 minutes in the first period. After the restart, Daniil Jarkov fired home to add his second at the Humo Arena.
In the 50th minute, both teams exchanged goals through Artyom Voronin and Anton Nazarevich to make it 4-1. Four minutes later, Artyom Voronin also scored his second to decrease the deficit for the hosts. But Veniamin Baranov improve HC Dinamo's lead 4 minutes to complete.
Humo

VHL Matchday 1

01/02/2020, 17:00

Finished

Dynamo S.P.