HC Humo revenge on KRS-BSU Beijing with a 3-2 win in China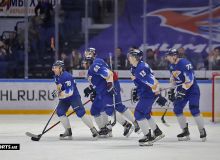 HC Humo revenged on KRS-BSU Beijing for a 3-2 defeat at the Humo Arena.
Yevgeniy Popikhin side earned the win in a row in the Supreme Hockey League as they secured a 3-2 victory over KRS-BSU Beijing in China on Monday.
Beijing side took an early lead through In Rudi 3 minutes into the first period, but he was Pavel Zdunov, who cancelled out the hosts' advantage just 75 seconds later.
HC Humo went to the first break with a 2-1 lead after Roman Tatalin added the second for the visitors in the 17th minute.
After the restart, Pavel Sinyavskiy increased their advantage in the 34th minute, but Seto Kristofer decreased the deficit 3 minutes later at the Beijing Sport University.
Beijing

VHL Matchday 1

25/11/2019, 16:30

Finished

Humo