HC Humo secure a 2-1 win over HC Rostov in Tashkent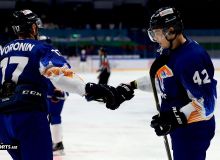 Uzbekistan's HC Humo claimed another vital two-point bag after they gained a 2-1 win over HC Rostov from Russian Federation.
Pavel Sinyavskiy took the hosts in front after a 34-minutes goalless period at the Humo Ice Dome on Monday.
However, the Russian side went to the second-break time with a 1-1 draw as Anton Antonov put the sides in lever-term.
In the last 10-minute period, Pavel Sinyavskiy celebrated his double, while HC Humo secured a 2-1 win in the end.
Humo

VHL Matchday 1

21/10/2019, 20:30

Finished

HC Rostov