HC Humo to face Torpedo-Gorky in Nizhny Novgorod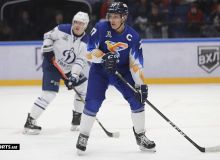 Evgeniy Popikhin's side already earned a place in the Play-off stage with 59 points before they left for Nizhny Novgorod.
HC Humo will contest with Torpedo-Gorky in their Supreme Hockey League match in Nizhny Novgorod.
HC Humo #73 Sergey Ilin suffered an injury in a dramatic match against Dynamo Tver at the Humo Arena last week.
GK: 61 Roman Golovanov, 62 Roman Smiryagin, 72 Dmitriy Lozebnikov
DF: 7 Aleksey Pepelyaev, 20 Nodir Islomov, 40 Vsevolod Sorokin, 44 Arseniy Eroxin, 65 Roman Tatalin, 68 Vladislav Naumov, 88 Konstantin Gavrilenko.
FW: 13 Artyom Voroshilo, 15 Maksim Kazakov, 17 Artyom Voronin, 19 Semyon Valuyskiy, 22 Pavel Sinyavskiy, 31 Andrey Smirnov, 38 Evgeniy Grigorenko, 42 Pavel Zdunov, 48 Pavel Novojilov, 50 Ivan Yatsenko, 66 Javohir Rasulov, 77 Aleksandr Sherbina, 78 Mixail Anisin, 84 Platon Popov, 85 Denis Erkin, 92 Anton Bogatskiy.
Torpedo Gorky

VHL Matchday 1

10/02/2020, 15:00

Finished

Humo