HC Humo unable to stop HC Ugra at the Humo Arena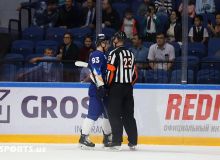 Uzbekistan's HC Humo continued their winless streak for the sixth defeat in the Supreme Hockey League after they lost home match to Russian Ugra team on Saturday.
The hosts were unable to prevent Ugra side from extending their perfect record in the League as the Mammoths secured their seventh win in a row.
Tashkent game brought another two points to HC Ugra, who broke the deadlock through Dmitry Arsenyuk in the middle of the match after two Humo players were warned for a two-minute period.
The visitors doubled the lead with another successful attack, while Alexander Borisenkov added the second on the far post.
At the end of the match, HC Humo halved the deficit through Evgeni Ivannikov, but #13 Kirill Pilipenko returned a two-goal advantage for Ugra side 13 second to complete.