Hector Cuper: It's too early to say about my resignation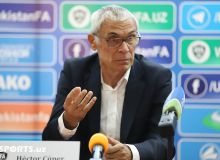 Uzbekistan received a shocking 2-0 defeat from Palestine in their opening FIFA World Cup Qatar 2022 and AFC Asian Cup China 2023 Asian Qualifiers tie on Thursday.
Uzbekistan had been the favourites going into the Group D match but Palestine made full use of the home ground advantage to secure a vital three points.
I'm not satisfied with the game that my players showed today. We were playing well until we missed the first goal. But I didn't really understand what happened after the opening goal. We lost the concentration on our game. We have made a number of ridiculous mistakes in defense. We try to change the game into our side with substitutions, but none of them gave a benefit at the end.
I remind that we have just started Asian Qualifiers as we have many games ahead. We draw the right conclusion from this match to win the next games.
We played the only game in this round. I think it's very inappropriate to talk about resignation after the first defeat.
Congratulations to the Palestinian team on the victory, they played well today. I repeat my words that each time in our group has a chance to get to the next level.
It was important to start the selection with a win. But today it was not. I reiterate that there are still many games ahead and we will try to score the maximum points in the remaining games.