Hector Cuper: We have to kick-off Asian Qualifiers with 3 vital points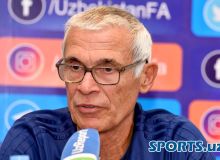 Uzbekistan head coach Hector Cuper attended the pre-match press conference with White Wolves' defender Farrukh Sayfiev ahead of Palestine clash.
Uzbekistan will take a mixture of youth and experience to Palestine for their opening FIFA World Cup Qatar 2022 and AFC Asian Cup China 2023 Asian Qualifiers fixture on Thursday.
"The opening game is always important in any competitions. It is also very important to start the Asian Qualifiers with 3 vital points. During the training camp, we tried to prepare for this match seriously. I think we managed to improve some areas. I'm expecting a good result from this game.
I should note that every opponent in our group has enough opportunity to advance the next stage. So, we have to prepare for every single match with great energy and potential. I can say we will play for only three points tomorrow.
Our goal is to qualify for the next round as the group winners. For that reason, we must first improve our game and show our skills on the pitch. We have to push our rivals to change their formation and tactics according to our style.
In order to earn a quota place for the World Cup, we first need to unite our team and trust in ourselves. That is why, every team member should believe in achieving our goals, then we will continue to follow our philosophy and eventually succeed our goal.
It is true that Uzbekistan have not reached the World Cup yet. But it is possible. It is time to break the tradition".
Found mistake? Select it and send us (Ctrl + Enter)