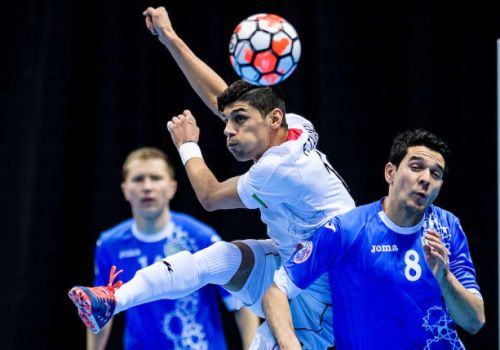 Iran to beat Uzbekistan on their way to the final
Uzbekistan received a stunning 7-1 defeat from the defending champions Islamic Republic of Iran at AFC Futsal championship semi-final on Friday.
Iran piled on the pressure from the beginning, keeping Uzbekistan in their half, and it paid off early with Mahdi Javid finding the back of the net with his strike to the bottom left corner in the third minute.
A minute later, Uzbekistan crossed to the attacking third without their full force and were punished when Ahmad Esmaeilpour regained possession and surged down the flank before passing it off to skipper Ali Asghar Hassanzadeh for a fine finish to double their lead.
The 11-time champions showed their prowess once again with their quick ability to move down the pitch, and in the 11th minute, Hassanzadeh turned provider as his blind pass into the box found Hossein Tayebi for a close range strike.
Hassanzadeh and Javid formed Iran's dynamic duo, as the captain earned two more assists to his name in the 16th minute with Javid completing his hat-trick with back-to-back goals in similar fashion.
In the second half, Uzbekistan returned with aggression and were more synergised in their movements and passes, which limited Iran's opportunities on target.
Mohammad Nazemasharieh's side showed that they were formidable in set-pieces as well, and Hassanzadeh earned his second with a simple tap in to make it 6-0 in the 31st minute, before Tayebi also scored his second of the match four minutes later.
Anaskhon Rakhmatov scored a consolation goal in the last 20 seconds of the game, courtesy of Farkod Adbdumavlyanov's pass, but it was too little too late as Iran sealed a 13th final appearance.
Iran will meet Japan in the final on Sunday, while Uzbekistan will play Iraq in the third place play-off.
Follow SPORTS.uz on Instagram