It became known when the two postponed Super League matches with the participation of Nasaf will take pla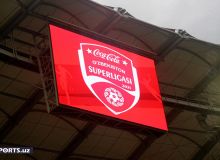 PFLUz has set the dates of the games
The matches of the Super League of the football club "Nasaf", which reached the AFC Cup final, against "Surkhan" and "Kokand-1912" were postponed.
In order to prevent the extension of the season, PFLUz appealed to the head coach of the Uzbekistan national team Srechko Katants and reached an agreement on the organization of matches with the participation of Nasaf during FIFA days. As a result, we are on the verge of timely organizing the last two rounds of the Super League and the remaining matches of the Uzbekistan Cup. If the two missed matches mentioned above had not taken place on FIFA days, the end of the season could have been postponed again due to the fact that the matches of the last round had to be held at the same time.
This means that the match of the 19th round between Surkhan and Nasaf will take place on November 11, and the match of the 24th round between Nasaf and Kokand-1912 will take place on November 15.
The Professional Football League of Uzbekistan thanks the head coach of the national team for understanding the situation.
Round 19
Thursday, November 11th
15:00 "Surkhan" - "Nasaf"
Round 24
Monday, November 15th
16:00 "Nasaf" - "Kokand-1912"
Матнда хатолик топсангиз, ўша хатони белгилаб, бизга жўнатинг (Ctrl + Enter)