Karshi hosts Karshi Open 2019 International Memorial Chess Tournament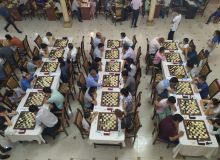 Karshi hosted Karshi Open 2019 International Chess Tournament dedicated to the memory of Ismat Shukurov on August 6-11.
According to the press release, Chess Federation of Uzbekistan, the medalists of the tournament have international grandmaster, master of sports and master of FIDE awards.
The international tournament was held in standard (classical) chess division in 9 rounds, in groups "A" and "B", according to the Swiss system FIDE.