Khumoyun Sultanov beats Indian Sidharth Rawat with straight sets victory at the 2019 Shenzhen Longhua Open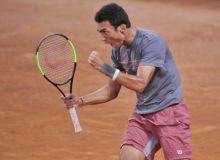 Khumoyun Sultanov started his participation at the 2019 Shenzhen Longhua Open with a confident victory on Monday.
In men's singles, Uzbek tennis player contested with Indian Sidharth Rawat at the Mission Hills Sport & Eco Park Tennis Center.
Sultanov defeats his opponent 6-2 6-2 in two straight sets before he will compete with No. 16 seed Bai Yan of China in the Round of 16 on Tuesday.