Lazizbek Mullajonov: "Boxing fans will compare me and Jalolov. It gives me strength!"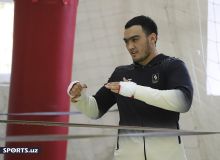 We were interested in the opinion of super heavy-weight boxer Lazizbek Mullajonov.
As you know, in a few days the World Boxing Championship will start in Serbia. This time, in the weight category of +92 kg, instead of Bahhodir Jalolov, young, talented boxer Lazizbek Mullajonov is representing Uzbekistan. SPORTS.uz was interested in his thoughts before the championship.
- In this major competition, more attention is paid to Uzbek boxer in this category. Many are interested in what kind of boxer came out after Jalolov. How much responsibility does this place on you?
- Whether we like it now or not, of course, fans will compare me and Jalolov. He has shown his power to the world and this thing is giving me strength too. At the same time, it is no exaggeration to say that it imposes a great responsibility on me.
- Olympic medalists such as Richard Torrez, Frazer Clarke, Kamshybek Kunkabaev are not included in the squad for the World Cup. Is that good news for you? Or did you just want to test yourself against them?
- In a sense, it is not good news. Because the new name, the new edges, we don't know them well. But I think it's a great opportunity for me and, God willing, we will win.
22-year-old Mullajonov is an Asian champion among youth, winner of a number of international tournaments, and a gold medalist at the World Military Boxing Championship.
Матнда хатолик топсангиз, ўша хатони белгилаб, бизга жўнатинг (Ctrl + Enter)