Makhmud Muradov makes his UFC debut beating Alessio Di Chirico in thriller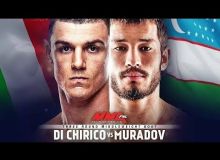 Making his UFC debut Saturday at UFC Copenhagen, Uzbekistan's Makhmud Muradov proved to be a wildly entertaining fighter in a fun scrap with Alessio Di Chirico.
Italy's Alessio Di Chirico welcomed Makhmud Muradov to the UFC in middleweight action at UFC Copenhagen on Saturday.
Di Chirico went to the body with a punch, while Muradov was lighting up the body at times also, with kicks, while both men loaded up on their punches.
Ultimately they would go the distance. Muradov, holding on at the end, had done enough. Uzbek wrestler Makhmud Muradov defeated Alessio Di Chirico by unanimous decision (29-28, 29-28, 29-28).