Match Highlights. FC Andijan 0-2 FC Metallurg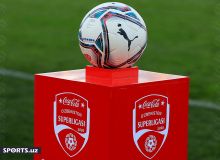 FC Andijan competed with FC Metallurg in the fifth matchday of Uzbekistan Super League in Andijan.
FC Metallurg took the lead through Stanislav Andreev in the 36th minute of the game at the Soghlom Avlod Stadium on Sunday evening.
In the first-period injury minutes, Stanislav Andreev added his second to double the advantage for the visitors.
Match Highlights
Found mistake? Select it and send us (Ctrl + Enter)