Match Highlights. FC Andijan 0-4 FC Lokomotiv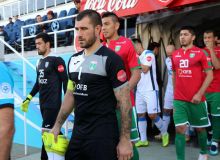 FC Lokomotiv are one point away from the League silver medals after they claimed a 4-0 win over FC Andijan.
FC Andijan welcomed the Railwaymen to the Soghlom Avlod Stadium for their Super League fixture on Sunday.
It took 40 minutes to break the deadlock as Jamshid Iskanderov opened the scoring for FC Lokomotiv.
After the restart, Oston Urunov and Sardor Mirzaev increased the lead for Samvel Babayan side in a span of 3 minutes. FC Andijan's Ildar Mamatkazin scored an own goal into his net 2 minutes to complete.
Match Highlights