Match Highlights. FC Bukhara 2-2 FC Andijan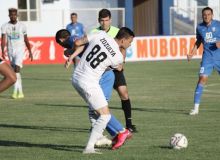 A 21-minute strike from Jasur Hakimov opened the scoring for FC Bukhara at the Bukhara Sports Complex.
However, teams went to the dressing room with a 1-1 draw as Jamshid Hasanov equalized for FC Andijan in the 44th minute of the game.
Ten minutes into the second period, Jamshid Hasanov added his second giving the advantage to the visitors before Bekhruz Sa'dilloev put the sides in level term with his stoppage-time goal.
Match Highlights
Found mistake? Select it and send us (Ctrl + Enter)