Match Highlights. FC Kizilkum 1-1 FC Andijan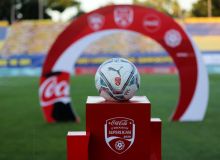 FC Kizilkum have been held to a 1-1 draw by FC Andijan in Monday night's Uzbek League fixture at Yoshlik Stadium.
Sherali Juraev gave the hosts the lead in the 69th minute, but Siroj Meliev earned Andijan side a deserved share of the spoils midway in the second-period injury minutes.
Match Highlights
Found mistake? Select it and send us (Ctrl + Enter)