Match Highlights. FC Lokomotiv 0-3 FC Metallurg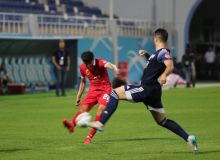 FC Metallurg stuned FC Lokomotiv with a shocking 3-0 win.
FC Metallurg took the lead through Abrorbek Toshkuziev after a 58-minute goalless period at the Lokomotiv Stadium. In a span of 7 minutes, Shahzodbek Ubaydullaev and Salamat Kutibaev increased the advantage for the visitors.
Match Highlights
Found mistake? Select it and send us (Ctrl + Enter)