Match Highlights. FC Lokomotiv 1-2 FC Sogdiana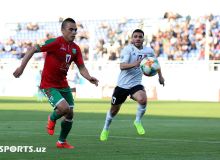 FC Lokomotiv continued their winless streak as they received a 2-1 defeat from FC Sogdiana on Saturday evening.
Jasur Hasanov put the visitors in front as he broke the deadlock after a 42-minute goalless period at the Lokomotiv Stadium. Shakhzod Shaymanov failed to block the shot, while he scored an own goal into his net before a 58-minute strike from Kirill Pogrebnyak halved the deficit for the Railwaymen.
Match Highlights
Found mistake? Select it and send us (Ctrl + Enter)