Match Highlights. FC Mashal vs FC Nasaf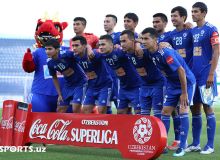 FC Nasaf were unlucky to return the lead in Uzbek League table following the draw with FC Mashal in Muborak.
Ruzikul Berdiev's FC Nasaf were unable to break the deadlock in Sunday's Super League match against FC Mashal at the Bakhrom Vafoev Stadium as the sides had to share the points.
Match Highlights
Found mistake? Select it and send us (Ctrl + Enter)