Match Highlights. FC Metallurg 1-3 FC Navbahor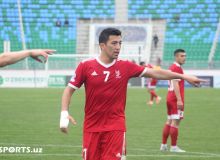 Azizbek Turgunboev gave an early lead for Namangan side just 10 minutes after the kick-off. But a 20-minute equalizer from Stanislav Andreev put the sides in a level term.
In the 40th minute, Azizbek Turgunboev scored his second goal as FC Navbahor went to the break with a 2-1 advantage. After the restart, FC Navbahor increased their lead through Ruslan Bolov 15 minutes to complete.
Match Highlights
Found mistake? Select it and send us (Ctrl + Enter)