Match Highlights. FC Nasaf 2-2 FC Navbahor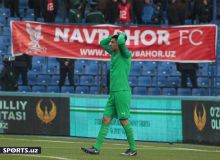 A 5-minute strike from Mirzohid Godurov put the visitors in front before Umarbek Eshmurodov and Azizbek Turgunboev failed to convert a goal from a penalty kick.
FC Nasaf and FC Navbahor shared the points as two penalty kicks were missed in a span of two minutes at the Karshi Central Stadium on Sunday.
After the restart, Ruzikul Berdiev's lads eqaulised the scoring through Bobir Abdikholikov, but it took just four minutes for Zabikhillo Urinboev returned the lead to Navbahor.
However, FC Nasaf managed to escape from a defeat after Marko Stanoevich put the sides level term four minutes to complete in Karshi.
Match Highlights
Found mistake? Select it and send us (Ctrl + Enter)