Match Highlights. FC Pakhtakor 2-1 Esteghlal FC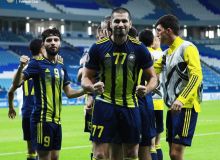 A physically intense opening half of an hour saw little in the way of scoring chances despite Pakhtakor's clear dominance.
Pakhtakor came from behind to defeat Esteghlal FC 2-1 in the 2020 AFC Champions League Round of 16 at Al Janoub Stadium on Saturday, a result which sent the Uzbekistan side to the quarter-finals for the first time since 2009.
Ali Karimi stepped up to take the resulting free-kick and beautifully curled it into the back of the net, leaving goalkeeper Eldorbek Suyunov rooted to the spot.
Two minutes before the end of the half, Pakhtakor found their equaliser. Sardor Sobirkhodjaev set-up Alijonov to cross from deep at the far post where Ceran was first to the ball, guiding his diving header past Hosseini to draw Pakhtakor level.
A swift and progressive exchange of passes in the opposition half allowed Sobirkhodjaev to find Erin Deriyok with plenty of space down the right and the Swiss striker drilled a half-volleyed effort from the edge of the box into the bottom corner to give Pakhtakor the lead for the first time in the game.
Match Highlights
Found mistake? Select it and send us (Ctrl + Enter)