Match Highlights. FC Sogdiana 2-1 FC Metallurg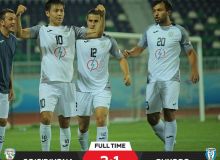 A 27-minute strike from Shohruz Norkhonov broke the deadlock giving the lead for FC Sogdiana. Boburbek Farhodov levelled the scoring just 3 minutes into the second period at the Sogdiana Central Stadium.
Javohir Kahramonov returned the lead for the hosts in the 58th minute before Sahob Rashidov increased the advantage 10 minutes to complete.
Match Highlights
Found mistake? Select it and send us (Ctrl + Enter)