Match Highlights. FC Sogdiana 2-1 FC Surkhon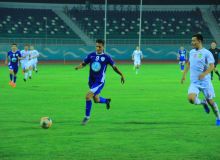 FC Sogdiana earned a comeback win over FC Surkhon in the Matchday Three of Uzbekistan League Cup in Jizzakh on Saturday.
A 21-minute strike from Sanjar Rashidov cancelled out Ayyubkhon Numonov's opener at the Sogdiana Stadium.
In the second-period injury minutes, Oybek Nurmatov's winning goal bagged all three points for FC Sogdiana in front of the home crowd.
Match Highlights
Found mistake? Select it and send us (Ctrl + Enter)