Match Highlights. HC Humo 0-2 Zvezda Chekhov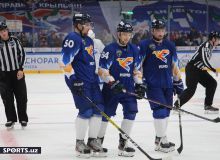 Yevgeniy Popikhin's side competed with Zvezda Chekhov in the third tie in their Supreme Hockey League quarterfinal series at the Podmoskove Ice Palace in Voskresensk.
After a 3-2 win over Moscow side on Thursday, HC Humo received a defeat as Artyem Chmikhov and Maksim Sorkin secured a 2-0 win for Zvezda Chekhov.
Match Highlights
Found mistake? Select it and send us (Ctrl + Enter)