Match Highlights. Kyrgyzstan 0-9 Uzbekistan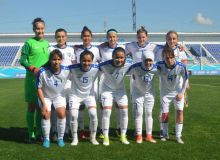 Uzbekistan national women's football team advanced to the final at the Cup of Hope International Football Tournament in Korakul, Kyrgyzstan.
After two wins over Tajikistan and Nepal, Uzbek side struggled with the hosts, Kyrgyzstan at the Central Stadium on Tuesday.
Uzbekistan goalkeeper was delighted to keep a clean sheet as her side fired home with a 9-0 victory.
Match Highlights