Match Highlights. Tai Son Nam 4-1 AGMK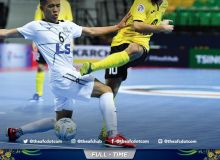 AGMK started AFC Futsal Club Championship Thailand 2019 with a defeat to Thai Son Nam of Vietnam on Wednesday.
The Uzbekistan club kept up the tempo and were rewarded seconds later when Usmonov scored the opening goal after being fed by Choriev.
In the 11th minute, Pham Minh Giang's side finally showed their attacking prowess when Nguyen Minh Tri scored a beautiful left-footed volley from 15 metres out to level the score.
Thai Son Nam started the second half with purpose and AGMK's defence gave way when Ton That Phi scored in the 22nd minute to give the Vietnam club a 2-1 lead.
Thai Son Nam were quick to respond and in a swift move, Tran Thai Huy rounded Umarov at the top of the arc and finished clinically.
Tran Thai Huy doubled his tally four minutes later when he latched on to Alireza Rafiei Pour's pass to slot home Thai Son Nam's fourth goal from close range to seal a dream start for Thai Son Nam.
Match Highlights