Match Highlights. Uzbekistan 2-0 Palestine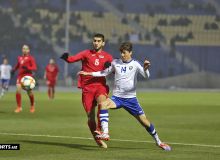 An Uzbekistan win over Palestine saw the Central Asians head into 2020 as group leaders, as Saudi Arabia were not in action.
Uzbekistan returned to the top of the Group D standings on Tuesday as a convincing 2-0 victory over Palestine saw the Central Asians begin the second half of their FIFA World Cup Qatar 2022 and AFC Asian Cup China 2023 Asian Qualifiers campaign in fine fashion.
Eldor Shomurodov's fifth and sixth goals of the campaign laid the foundations for the success, one which has edged Uzbekistan ever nearer to an eighth AFC Asian Cup appearance and, in the process, undoubtedly helped ease painful memories of last week's loss to fellow high-flyers Saudi Arabia.
Match Highlights