Match Highlights. Uzbekistan vs Iraq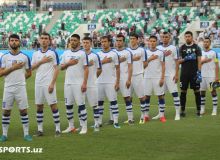 Uzbekistan national team played a friendly match against Iraq at the King Abdullah II Stadium in Amman, Jordan on Monday.
After the shocking 2-0 defeat to Palestine in their opening FIFA World Cup Qatar 2022 and AFC Asian Cup China 2023 Asian Qualifiers tie, the White Wolves ended the game with a goalless draw with Iraq.
Match Highlights
Found mistake? Select it and send us (Ctrl + Enter)