Mikhail Anisin's winning goal sees HC Humo claim another comeback win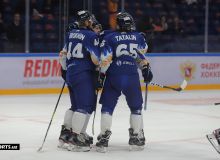 HC Humo made another comeback win in Tashkent
Uzbekistan's HC Humo contested with Dynamo Tver of Russia in their Supreme Hockey League match on Wednesday.
Aleksandr Sherbina and Aleksey Pepelyaev cancelled out Dynamo's two-goal lead through Semyon Pankratov and Ilya Shipov.
After the restart, Gleb Kojemyakin returned the lead for the visitors, but Aleksandr Sherbina put the side on level-term before Platon Popov gave a 4-3 advantage for HC Humo in the second-period late seconds.
Ilya Shipov added the second into his tally to equalize the scoring two minutes into the final period. However, Mikhail Anisin scored a winning goal for Tashkent side 32 seconds to complete at the Humo Arena.
Humo

VHL Matchday 1

05/02/2020, 19:30

Finished

Dynamo Tver