NOC announces Uzbekistan's squad including Paola Pliego for 2019 World Fencing Championships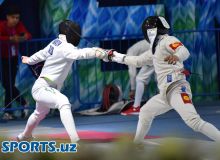 Uzbekistan National Olympic Committee has announced a squad of Uzbekistan national fencing team for 2019 World Fencing Championships will be held from 15 to 23 July 2019.
Budapest will host the Championships for the eighth time, with the Hungarian capital having last welcomed the world's top fencers in 2013.
María Paola Pliego Lara, known as Paola Pliego, is a Mexican sabre fencer, bronze medallist at the 2015 Pan American Fencing Championships will compete under the flag of Uzbekistan at the 2019 Fencing World Cup.
Uzbekistan national fencing team
Sevinch Ismoilova – sabre
Zaynab Dayibekova – sabre
Yana Obvintseva – sabre
Paola Pliego – sabre
Sherzod Mamutov – sabre
Pazilbek Genjebaev – sabre
Boburjon Rasulov – sabre
Roman Aleksandrov – epee
Javohirbek Nurmatov – epee
Fayzulla Alimov – epee
Oleg Sokolov – epee
Malika Hakimova – epee
Yana Alborova – epee
Hasan Badunov – epee