Olimjon Nazarov dominates Thai Chaiwat Buadkratok to defend his WBO Oriental Youth Title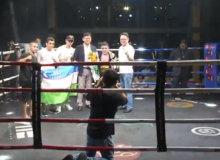 Uzbekistan's Olimjon Nazarov was confident to defend WBO Oriental Youth Title Match that took place at the Cocky Buffalo Gym, HCM City on Sunday.
The 34-year-old strong boxing potential Uzbek boxer fought against Chaiwat Buadkratok also from Thailand in the title match.
Potentially interesting Super Fly contest saw Uzbek fighter Olimjon Nazarov (19-5, 11) take on the limited but fun to watch Chaiwat Buadkratok (32-1, 20) from Thailand.
Coming into this Nazarov has won 6 in a row, including a huge win in August over Ivan Soriano, and is a long way removed from the man who lost 3 times in just over 3 months.