 Oliy League. FC Bunyodkor have lost two points in FC Dinamo clash
FC Bunyodkor hosted newly promoted FC Dinamo at Bunyodkor stadium as they started the seventh matchday of Uzbekistan Oliy League this evening.
Javohir Kahramonov's 22nd-minute effort saw the visitors take a 1-0 lead before Doston Khamdamov levelled the score five minutes later with a classical finish.
FC Bunyodkor continued to press in the second period as they looked for a remarkable turnaround, but Samarkand side's excellent defence stood strong as it finished a 1-1 draw before the final whistle.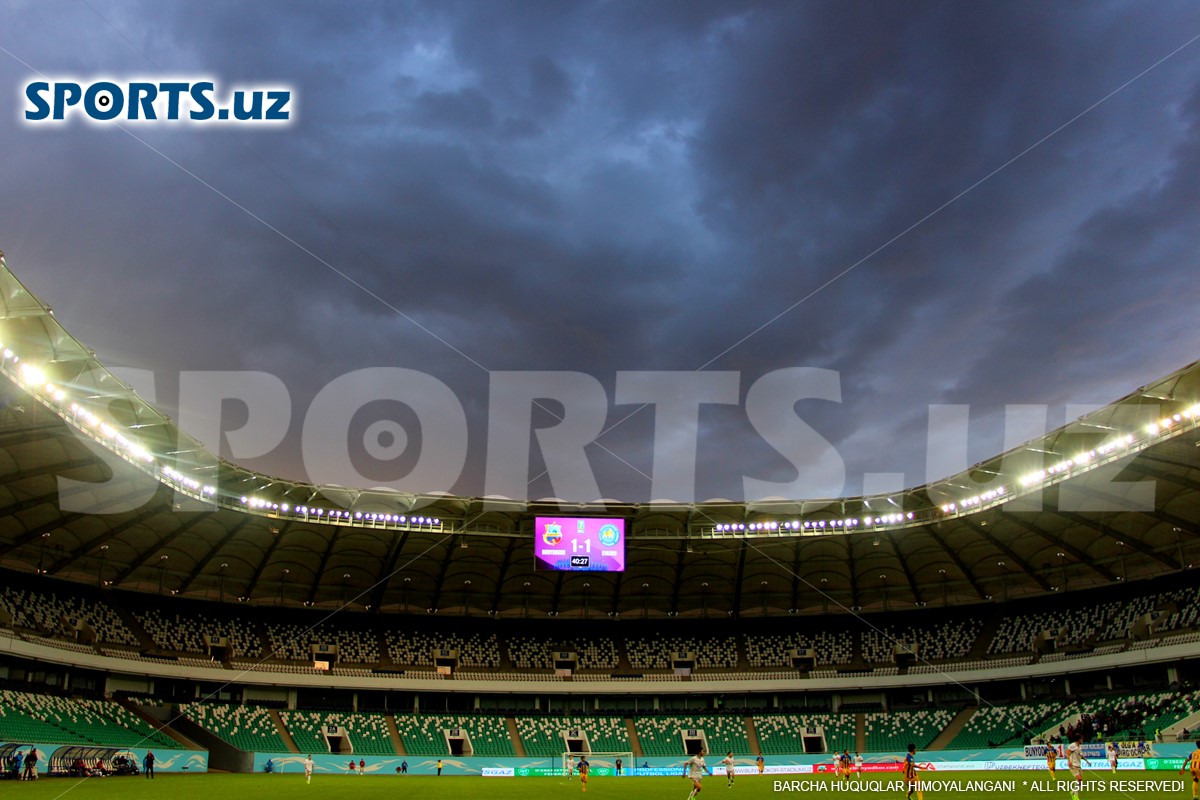 Uzbekistan Oliy League | Matchday Seven
April 20, 2017.
FC Bunyodkor 1:1 FC Dinamo
Goals: Dostonbek Khamdamov 27 - Javohir Kahramonov 22
FC Bunyodkor: 25.Murod Zuhurov (s), 2.Rustam Ashurmatov, 4.Akrom Komilov, 10.Eldor Shomurodov, 17.Doston Khamdamov, 19.Nurullo Tukhtasinov(.Javohir Esonkulov 56), 20.Sardorbek Azimov(Mirjahon Mirahmadov 65), 21.Dilshodbek Ahmadaliev, 28.Davronbek Umirov, 29.Otabek Shukurov, 30.KHurshid Giyosov.
Substitutions: 45.Dilshod Hamroev, 5.Javlon Mirabdullaev, 7.Dushan Michich, 23.Nodirjon Kamolov, 31.Mirjahon Mirahmadov, 44.Mirjamol Kosimov, 97.Javohir Esonkulov.
FC Dinamo: 1.Mikhail Naumov, 2.Mirkamol Lokaev, 6.Akmal Bozorov (s), 8.Jasur Azimov, 10.Javohir Kahramonov, 14.Radu Rojak, 15.Shohruh KHolmatov, 18.Damir Nizanov(Abdumalik Abdullaev 59), 19.Orif Mamajonov, 20.Amirjon Safarov, 22.Bunyod Isroilov.
Substitutions: 16.Rustam Toshtemirov, 3.Abdujamol Isroilov, 4.Hakim Olimkhonov, 5.Firdavs Abdusalomov, 11.Abdumalik Abdullaev, 21.Iskandar KHolmirzaev, 23.Komil Sharofuddinov.
Yellow cards: Davronbek Umirov 23. Bunyod Isroilov 44. Sardorbek Azimov 63. Dilshodbek Ahmadaliev 72
Join to SPORTS.uz channel on Telegram