 Oliy League. Vadim Cemirtan saved FC Bunyodkor from defeat by FC Obod
The Matchday Four of 2017 Uzbekistan Oliy League has been kicked off as FC Obod hosted current runner-ups FC Bunyodkor.
Shokhruz Norkhonov broke the deadlock in the 20 minute of the first half before Moldavian Vadim Cemirtan equalised the score with a header fifteen minutes to complete.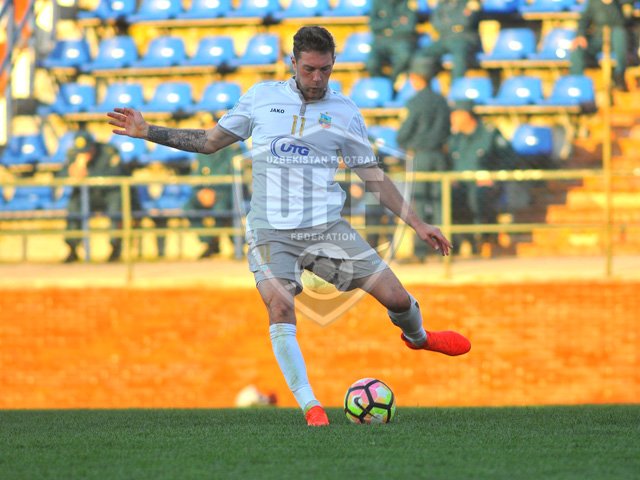 FC Obod 1:1 FC Bunyodkor
Goals: Shokhruz Norkhonov 20 - Vadim Cemirtan 75
FC Obod: 1.Shirinboy Abdullaev, 2.Abror Khusinov, 3.Anvar Gofurov, 4.Farhod Mirahmatov, 5.Gayrat Umirov, 7.Sanjar Rihsiboev, 8.Doniyor Hasanov, 10.Sunnat Ermatov, 11.Shokhruz Norkhonov, 19.Sardor Kahhorov, 21.Navruzbek Khaipov
Substitutions: 12.Azamat Ahmedov, Sherzod Jalilov, Pavel Solomin, 16.Jahongir Omonov, 18.Sanjar Turakulov, 20.Idris Bikmaykin, 44.Timur Vasilyev
FC Bunyodkor: 25.Murodjon Zuhurov, 2.Rustam Ashurmatov, 4.Akrom Komilov, 5.Javlon Mirabdullaev, 7.Dusan Micic, 8.Javlon Ibrohimov, 9.Shakhzodbek Nurmatov, 11.Vadim Cemirtan, 17.Doston Hamdamov, 21.Dilshodbek Ahmadaliev, 29.Otabek Shukurov
Substitutions: 45.Dilshod Hamroev, 10.Eldor Shomurodov, 19.Nurillo Tukhtasinov, 20.Sardor Azimov, 30.Xurshid Giyosov, 44.Mirjamol Kosimov, 97.Javohir Esonkulov
Like official page of SPORTS.uz on Facebook