Oston Urunov receives Player of the Month award in FC Ufa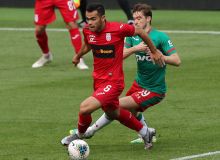 A total of 10 appearances this season
Uzbekistan's Oston Urunov has been named as the Player of Month in Russian Premier League club FC Ufa.
According to the poll conducted on the club's official website, 30.2% of respondents voted for Uzbekistan international. The second place went to Daniil Fomin, who received twice fewer votes 14.3 than Urunov
Top three was completed by FC Ufa goalkeeper Alexander Belenov with 10.4% of all votes.
Found mistake? Select it and send us (Ctrl + Enter)