Our girls performed successfully in the World Weightlifting Championship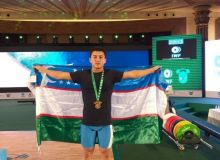 The next day of the World Junior Weightlifting Championship in Saudi Arabia was a success for the Uzbek national team.
In particular, Nigora Suvonova (-71 kg) and Sevinchoy Komilova (-71 kg) won 4 medals.
In the snatch exercise , Suvonova was awarded silver with a result of 92 kg . Following the results of the push exercise, both girls rose to the podium. Suvonova took second place, and Komilova became the bronze medalist.
Following the results of the two-man event, Suvonova was awarded another silver. Unfortunately, Komilova took fourth place, although she set the same result with the representative of Poland. The reason was that Komilova's indicator was set later.
World Junior Weightlifting Championships.
Girls, -71 kg:
1. Zarina Gusalova (Russia) - 226 (103+123) kg;
2. Nigora Suvonova (Uzbekistan) - 206 (92+114) kg;
3. Martina Dolega (Poland) - 195 (88+107) kg;
4. Sevinchoy Komilova (Uzbekistan) – 195 (84+111) kg.
Матнда хатолик топсангиз, ўша хатони белгилаб, бизга жўнатинг (Ctrl + Enter)