"Pakhtakor" scored 62 goals in 2021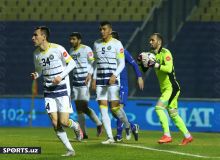 In the championship matches, the most goals were scored in 1998
Of these, 26 are in the Super League, 6 in the Champions League, 4 in the Uzbek Cup and 1 in the Uzbek Super Cup. As a result, 24 wins, 7 draws and 6 defeats were registered.
The Lions scored 62 goals against their opponents, and conceded 29. Out of 37 matches in 21, the gates of the capital's team remained untouchable.
The absolute record of performance was recorded in 2006. At that time, the German team scored 136 goals against the opponents. The next highest results date back to 1993 (131 goals) and 1998 (130 goals). Since 1992 to the present day, in 13 seasons, Pakhtakor has scored 100 or more goals against opponents. From 2002 to 2009, the team scored more than 100 goals in a season for 8 consecutive years. And in 2019, after a 9-year break, the number of goals again exceeded 100.
In the championship matches, the most goals were scored in 1998. Then 96 goals were scored in 30 matches. In 1993, in the Uzbekistan Cup, the opponents' gates were hit 49 times.
Table of goals by year:
1992 - 99
1993 - 131
1994 - 100
1995 - 85
1996 - 78
1997 - 87
1998 - 130
1999 - 84
2000 - 84
2001 - 92
2002 - 118
2003 - 114
2004 - 108
2005 - 100
2006 - 136
2007 - 110
2008 - 107
2009 - 103
2010 - 63
2011 - 60
2012 - 67
2013 - 58
2014 - 76
2015 - 81
2016 - 59
2017 - 44
2018 - 78
2019 - 115
2020 - 100
2021 - 62
Матнда хатолик топсангиз, ўша хатони белгилаб, бизга жўнатинг (Ctrl + Enter)