Palestine earn their first goal and point against Uzbekistan for the first time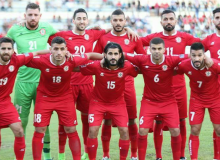 Uzbekistan kicked off their participation in FIFA World Cup Qatar 2022 and AFC Asian Cup China 2023 Asian Qualifiers with a shocking defeat to Palestine on Thursday.
The White Wolves received their first defeat from Palestine for the first time, while Palestinians score their first goal into Uzbek side in the history.
Uzbekistan had been the favourites going into the Group D match but Palestine made full use of the home ground advantage to secure a vital three points.
2002 Asian Games Korea Republic | 01/10/2002
Uzbekistan 2 – 0 Palestine
Goals: Renat Bayramov, Bahromjon Haydarov
WC Qualification Asia 2006 Germany | 08/09/2004
Palestine 0 – 3 Uzbekistan
Goals: M. Kasimov, S. Jeparov, M. Bikmaev.
WC Qualification Asia 2006 Germany | 09/06/2004
Uzbekistan 3 – 0 Palestine
Goals: B. Ashurmatov, V. Shishelov, S. Djeparov
Friendlies 2014 | 13/12/2014
Uzbekistan 1 – 0 Palestine
Goal: S. Rashidov
WC Qualification Asia Qatar 2022 | 05/09/2019
Palestine 2 – 0 Uzbekistan
Goals: Oday Dabbagh, Islam Batran