Petchpanomrung Kiatmookao puts an end to Anvar Boynazarov's challenge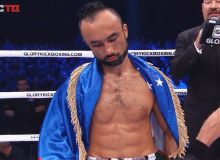 Headlining the Glory 67 card in Orlando was a featherweight title bout between defending champion Petchpanomrung Kiatmoo9 and the challenger Anvar Boynazarov.
Petchpanomrung has looked a star right from his very first fight under Glory, his only loss a controversial one, against Robin Van Roosmalen. Boynazarov hasn't always looked so impressive, aside from a stunning KO win over Fabio Pinca.
Boynazarov always looked strong and determined but the heavy handed Uzbekistan was an underdog against Petchpanomrung. The champion looked slick from the opening bell, looking to hit and move away without giving his opponent the opportunity to counter.
In the opening round Petchpanomrung landed with fast low kicks and body kicks and the occasional fast straight left, always talking a half step or two back after each final shot. Boynazarov looked a little slow to react and was often left swiping at air.
When Boynazarov managed to get close enough to throw a solid salvo of shots at Petchpanomrung the Thai fighter managed to slip or parry away most of the blows.
The second and third rounds saw more of the same with slick movement and footwork from Petchpanomrung. Boynazarov pushed forward but lacked the speed to get close enough to do any real damage.
At one point Petchpanomrung landed with three fast push kicks in a row, each time pushing back Boynazarov and breaking down his timing and rhythm some more. The challenger kept opening up with dangerous looking punches, but the champion always showed slick head movement and never looked troubled at all.
Round four kept the same pace with Petchpanomrung again looking in control. At one point Boynazarov managed to catch one of the push kicks that had been bothering him all the fight and throw the Thai into the ropes.
Almost immediately afterwards Petchpanomrung caught one of Boynazarov's kicks and swept his support leg from under him, sending him crashing to the canvas. As the fight moved into the final round it looked like the challenger would need a miracle to get anything from the fight.
He gained a little hope early in the round when Petchpanomrung slipped over after trying to avoid a solid left hook. Boynazarov pushed forward looking determined but the Thai showed it was nothing more than a slip and controlled the ring with apparent ease.
He was picking off Boynazarov with fast punches and kicks and the scorecards reflected Petchpanomrung's dominance with all three judges seeing it 50-45. It was a masterclass performance from the man from Buriram ind on this form it is very difficult to see anyone wrenching the Glory 143lbs title from around his waist.