Photo Gallery | Fans. HC Humo 4-2 Tseng Tou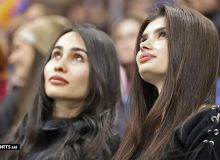 HC Humo finished November's home match series with a win Tseng Tou of China.
HC Humo contested with Tseng Tou of China in their Supreme Hockey League fixture in Tashkent on Tuesday.
Goals from Ivan Yatsenko, Yevgeniy Grigorenko, Pavel Sinyavskiy and Pavel Zdunov gave a 4-2 victory for the hosts at the Humo Arena.