Photo Gallery | Second Half. FC AGMK 0-2 FC Sogdiana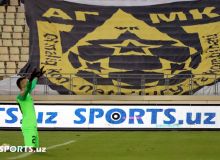 FC Sogdiana took on FC AGMK in Sunday's Super League match as the Jizzakh side recorded a 2-0 win at the OKMK Stadium in Almalyk.
The visitors took an early lead, while Shakhboz Jurabekov made the breakthrough in the 4th minute of the contest. FC AGMK side got a great opportunity to equalise the scoring, but Dilshod Jurabekov missed a first-half penalty for Almalyk side.
FC AGMK looked comfortable in possession for much of the second half, but FC Sogdiana's late perfect counter-attacking display in the second period to seal a 2-0 victory, as Kakhi Makharadze broke away to clinch three points with an adroit finish.
Photo Gallery. Second Half
Found mistake? Select it and send us (Ctrl + Enter)